Ready-to-Run ERP - Aangedreven door Industry Best Practices
De kracht van SAP S/4HANA Cloud, Public Edition is de enorme set aan best practices die SAP de afgelopen 50 jaar heeft samengesteld en onderhouden. De best practices van SAP S/4HANA Cloud, Public Edition zijn afgeleid van de SAP ECC on-Premise oplossing. Met deze SaaS-ERP oplossing hebben bedrijven toegang tot een volwaardige ERP zonder de bekende complexe set-up en onderhoudsinspanning van de on-premise ERP-omgeving. SaaS-ERP blijft actueel met halfjaarlijkse release-updates en is voorbereid om innovaties envoudig in te zetten zonder complexe IT-opdrachten. De business is in staat om zijn eigen show te draaien met SaaS ERP zonder grote afhankelijkheid van IT..
SAP Public Cloud (SaaS) is SAP's strategische platform
SAP heeft verklaard dat de Public Cloud ERP-omgeving het strategische platform voor de toekomst is. Alle innovatieve oplossingen zullen alleen via de SAP Public Cloud beschikbaar worden gemaakt.
SAP Public Cloud omvat de volgende oplossingsgebieden:
SAP S/4HANA Cloud, Public Edition
SAP Business Technologie Platform
SAP Industry Cloud oplossingen (SAP + Partners)
SAP ECO System (Suites zoals SAP Ariba, SAP Successfactors, SAP Concur, SAP Fieldglass en meer)
De SAP Industry Best Practices worden van begin tot eind ontwikkeld. Dit omvat vlekkeloze integraties tussen de verschillende afdelingen.
.
Voorbeeld van een end-to-end best practice-proces voor Source to Pay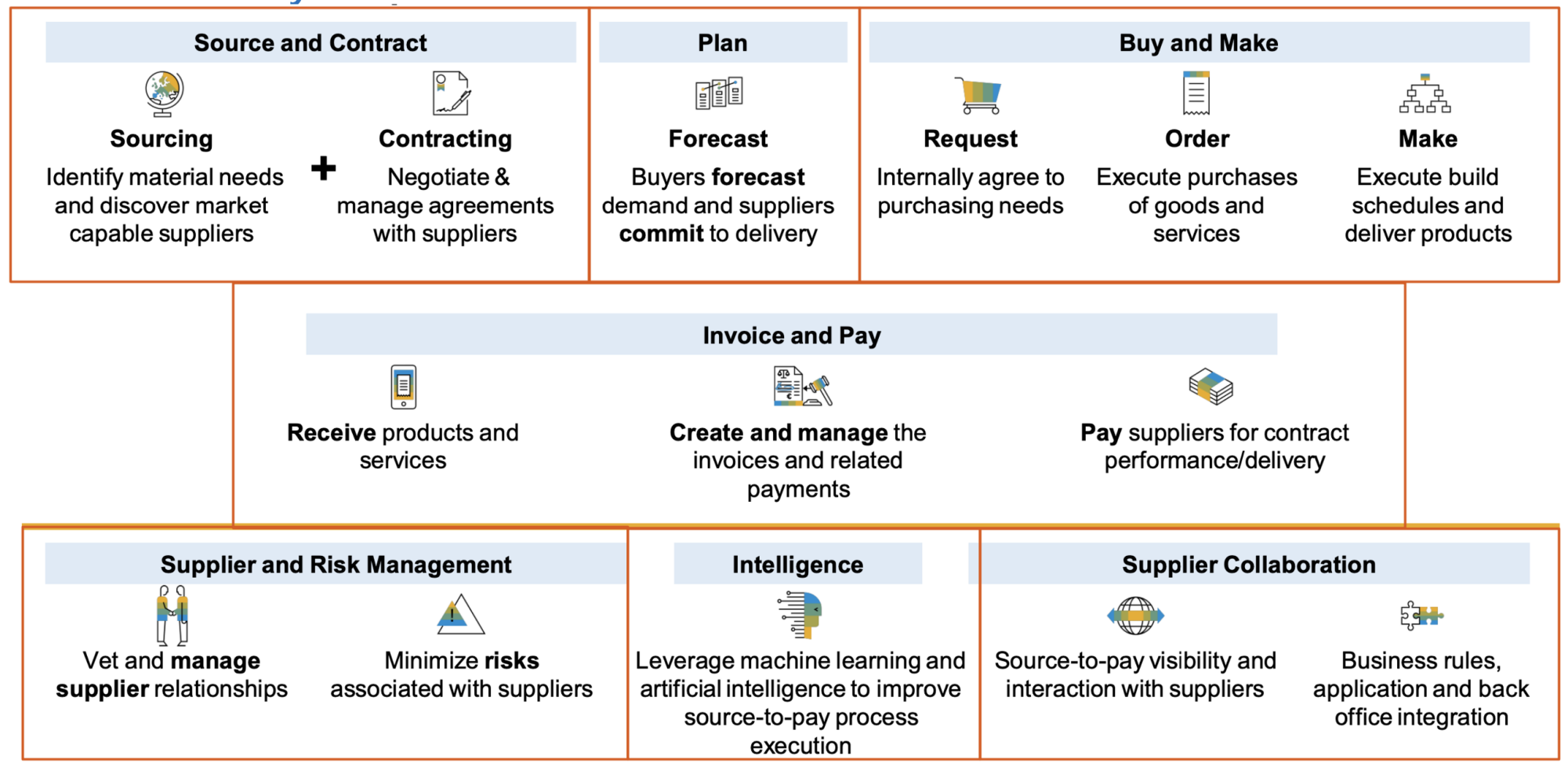 Best Practices van SAP S/4HANA Cloud, Public Edition
Er zijn in totaal 850 scope-items in de verschillende Business Areas om uw end-to-end bedrijfsprocessen te ondersteunen.
De Digital Discovery Assessment wordt gebruikt om de gewenste set scope-items te selecteren. De selectie van scope-items is afhankelijk van uw benodigde bedrijfsentiteiten, verkoopstructuur, financiële en kostencentra, activiteiten en vereiste functionaliteiten.
Welke varianten heb je nodig om de end-to-end processen in te richten naar jouw specifieke behoeften?
Er is geen vaste manier en er is geen standaard manier. De scope items zijn standaard industriepraktijken, maar de configuratie wordt aangepast aan uw specifieke situatie. Enkele voorbeelden:
Gebruikt u inter-company scenario's voor middelen of producten?
Gebruikt u directe of indirecte aankopen?
Wat is de structuur en type van magazijnen?
Wat is het ontkoppelpunt voor klantorders? Make to stock, make to order, assemble to order, engineer to order
Maakt u gebruik van interne of externe transportfaciliteiten?
Heeft u aparte implementaties nodig voor verschillende landen?
Wat zijn de verwachte integraties met SAP en applicaties of oplossingen van derden?